by Wendy Delaney

Seattle-based Wendy Delaney writes fun-filled cozy mysteries and is the award-winning author of the Working Stiffs Mystery series. A long-time member of Sisters in Crime, Romance Writers of America, and Mystery Writers of America, she's a Food Network addict and pastry chef wannabe. When Wendy's not killing off story people she can be found on her treadmill, working off the calories from her latest culinary adventure.

---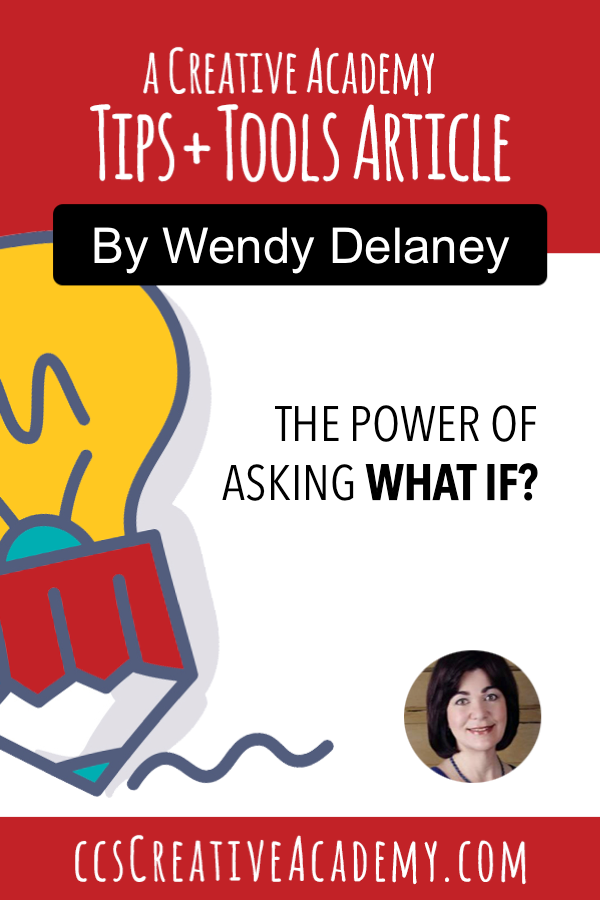 When I get together to brainstorm story ideas with other writers it's only a matter of time until one of us says, "what if…."
I've heard some outlandishly brilliant suggestions that begin with those two words. More times than not these suggestions come not from the author who created the characters under discussion, but from one of the other writers lending her brain power.
It's not difficult to understand why this is the case. When you're not the stake-holder, when you're there simply to offer up suggestions, there is no fear of making a wrong decision. Your creativity is invited to come out and play the "what if" game in a fear-free environment. So what if some of these outlandish ideas don't fly. Take fear (of failure, of trying something new/different, of criticism, etc.) out of the mix and your creativity is given the invitation to soar.
Eliminating fear is easier said than done, especially for new writers. Having been there, I totally get that. So, I'd like to offer a suggestion:
Don't let fear hold you back. As hockey legend Wayne Gretzky said, "You miss 100 percent of the shots you never take."
Work on your craft, take classes, talk with other writers, read work by authors you admire – what if you did all these things? What if you took a shot at your writing goals? Could you finish your first book (novella or short story) a year from now?
Imagine what could happen if you followed through on a "what if..."
---
Learn more about Wendy and her writing in these places:
WendyDelaney.com — Amazon.com — Goodreads — Facebook — Twitter
---
Want to know about new posts in the Procrastinator's Paradise?
Join our free Resource Room! Not only will you get access to lots more great content to help you on your path to publication, you'll also be added to our once-a-week email in which we share updates of content here and even more tips for writers.
Honestly, we are the best tippers around! (Maybe not the best punsters, though...)