by Alexia Adams

A former world wanderer, Alexia Adams writes contemporary romance stories (17 since 2014) that reflect her love of exotic destinations and diverse characters and cultures. She currently lives near Vancouver, Canada with her husband and four children and dreams of a world without housework. As a flight risk mom, romance is her escape and she can often be found with her nose in a book, pretending she's somewhere else.

---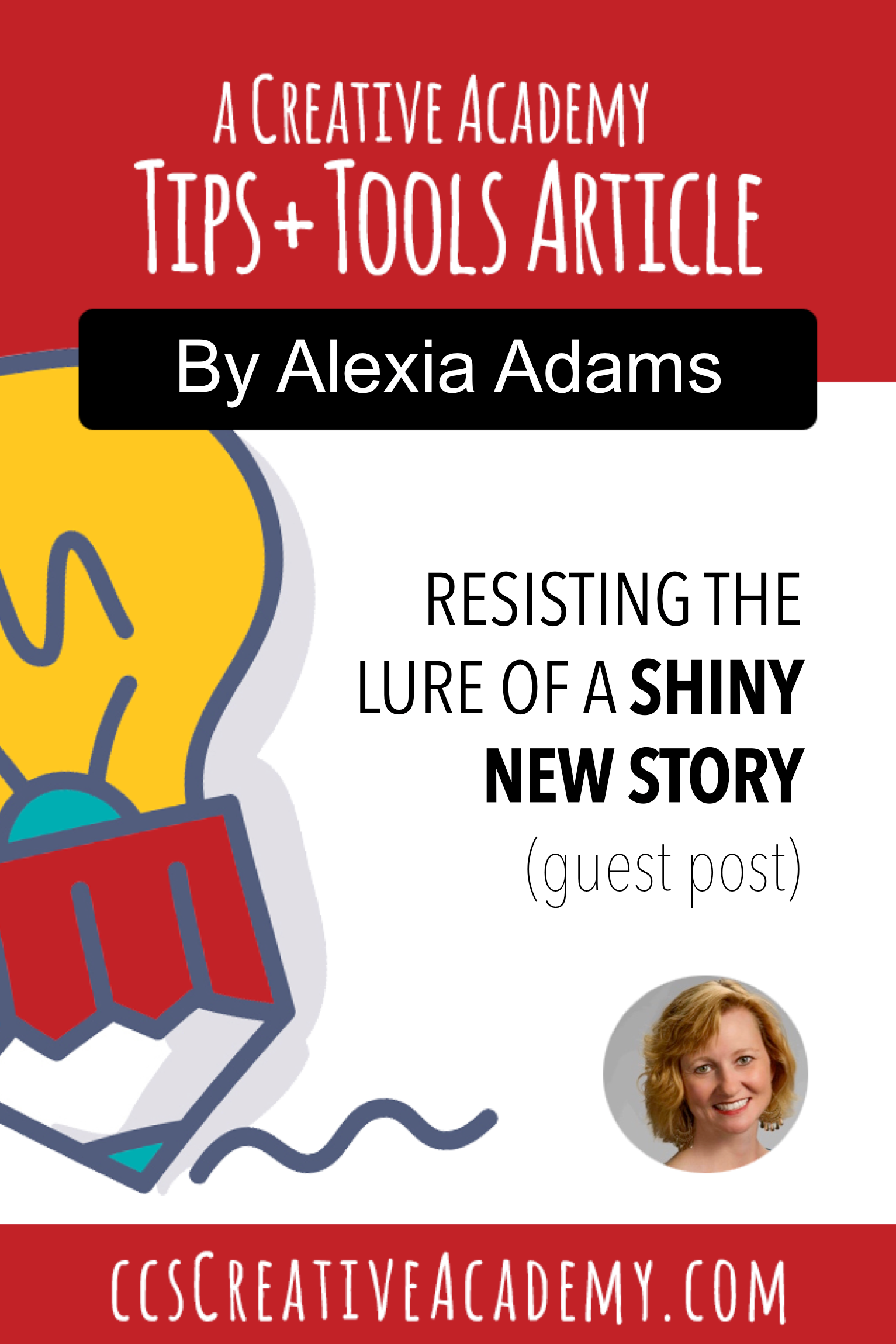 I read a tweet a few weeks ago that said,
"Telling a writer you have a story idea for them is like bringing a box of broken toasters to a hoarder's house – trust me, we're good."
This is so true. Once you start to write, you'll likely find story ideas flood your mind. A phrase, a photo, an overheard snippet of conversation, almost anything can spark our imagination. After all, that's what make us writers in the first place. But these bright ideas can lead us down a dark path. If not carefully managed, all these wonderful plots can stop us from achieving our overriding goal—finishing a story through to 'The End'.
I recently wrote a three book series that I self-published. While writing the third book (which I'd intended to be the last), one of the secondary characters whispered that he'd like a story as well. Then one night he showed up — complete with heroine, backstory, and rough plot — into my dreams.
Thanks, Eduardo.
However, in the meantime, I'd also pitched another series to one of my editors, so felt I had to at least get the first book written in case she wanted to contract it. Then I was asked to write a promo piece incorporating a carnival scene, and that warped into a complete story idea as well. Broken toaster, anyone?
With three full-fledged stories in my brain all fighting to get out, my writing became paralyzed. Every time I sat down to write one book, another gem of dialogue or a little bit of backstory or half-baked scene floated into my brain from one of the other stories. This was always at its worst when stuck on the story I sat down to work on. Then writing anything else seemed easy by comparison.
But I knew if I didn't push past the initial hurdle I'd end up with a plethora of chapter 3s and no 'The Ends' to show for it.
So, how do I manage this ADD writing? A damn good notebook, preferably one with dividers so I can have a different section for each story. I carry this notebook with me everywhere. Then when the snippet of dialogue or perfect scene description hits me for any one of the other stories, I can quickly jot it down and then still concentrate on my main story. (Okay, confession, I have an equal number of notes written on the back of grocery store receipts but the idea of being organized is there.)
I also find setting deadlines helpful for me. I will finish story #1 by this date, then let it sit while I work on story #2. Of course in the meantime, stories 456 through 832 have also assaulted my brain. I write the salient bits of these ideas down in my trusty treasure chest notebook for that day when the inspiration dries up. I've been writing seven years now and it still hasn't happened. But unless the book is on the schedule it has to wait it's turn. I find this also allows the strongest ideas to linger and the 'hey, this might work' ones to dissipate before I waste too much time on them.
However, if you see Eduardo's story, 'Vintage Love' book 4, up on Amazon in the next six months, then know that he's had his wicked way with me and bumped himself up on the schedule. After all, some heroes are more persuasive than others.
Wishing you many 'The Ends',
Alexia
---
Find Alexia and her writing in these places:
AlexiaAdams.com — Amazon.com — Goodreads — Facebook — Twitter
Want to know about new posts in the Procrastinator's Paradise?
Join our free Resource Room! Not only will you get access to lots more great content to help you on your path to publication, you'll also be added to our once-a-week email in which we share updates of content here and even more tips for writers.
Honestly, we are the best tippers around! (Maybe not the best punsters, though...)